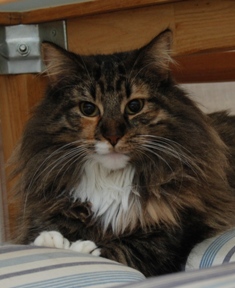 DK*Midnatstjernen's Tequila Sunrise
"Qila"
- the Queen of the castle -
Born 2004-05-03. EMS code: NFO f 09 23.
HCM tested: normal 2006-05-14
GSD4 tested normal 2009-05-24
Qila is a sweet, determined, playful lady.
She is a heavy female with good size (4.5 kilos) and length. Very good bone structure. She has a excellent NFO head, with excellent expression, excellent profile, proportions and a strong chin. Her eyes has excellent shape and with excellent look. Her ears has excellent size and are excellent set. She has excellent coat. Her tail is bushy, with excellent length.
She's often the judge's favourite... Unfortunately she don't like shows, prefering to stay at home. So we let her do so. She's our only cat that has achieved HP at a show! :-) Maybe we try with another show again sometime.
She takes very good care of her kittens, it seems she really enjoys the life of a mother.
Thank you Jeanette and Torben for the confidence to let this sweet immigrant lady to move to Sweden and stay with us!
Tequila's Personal Photo Gallery was added 2009-07-20.
Mother of litter 1 (Cats) 2005, litter 2 (Mythology) 2006, and litter 4 (Audio) 2007.
Tequila was neutered 2011-04-13.
see also the new
Tequila's Personal Photo Gallery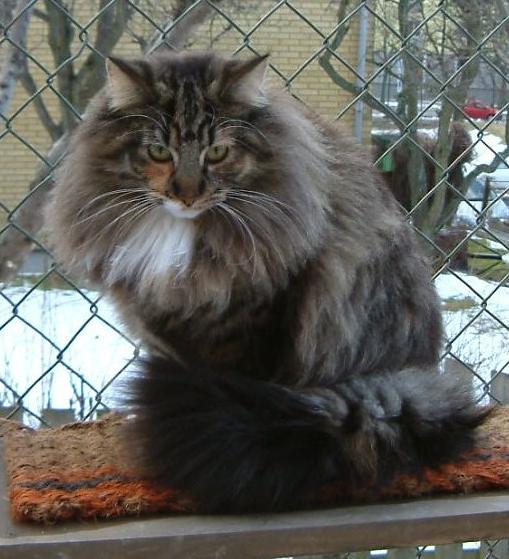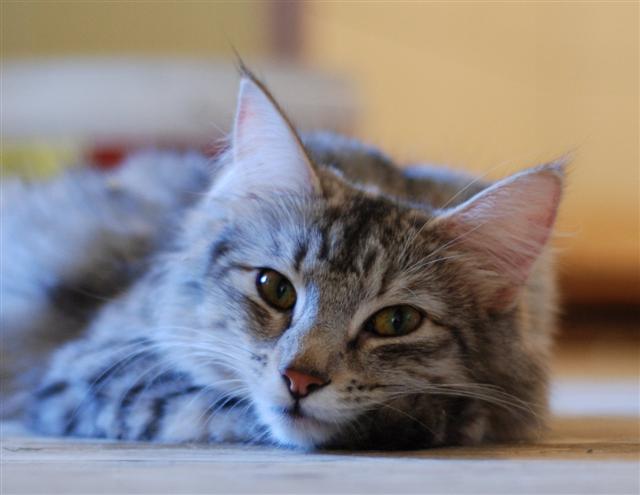 S*Fridalas Dracena
"Parvel"
Born 2006-05-21
EMS code: NFO fs 23
HCM tested: normal 2007-11-29
GSD4 tested normal 2009-05-24
We have visited Dracena a few times at S*Fridalas. She's a very social girl, just as our Galliano...

Dracena is our purring female. She loves to be around the family and purr on everyones lap - including guests. But most of all she preffers to phurr in Sebastian's lap.

She's also an adventurius girl, always looking for new exiting toys.

Mother of litter 3, Superheroes. Born 2007-05-27.

Mother of litter 5, IT. Born 2009-03-10.

Thank you Gunnel and Claes for this purring little silver tortie girl!

Take a look in the photo gallery!

Dracena was neutered 2011-04-13.
Pedigree
see also the new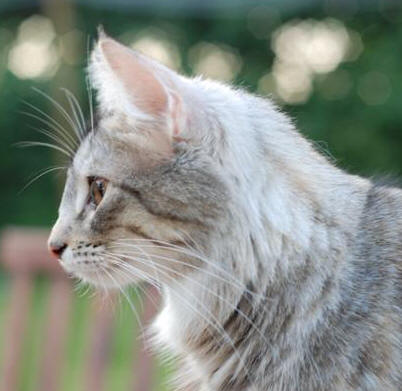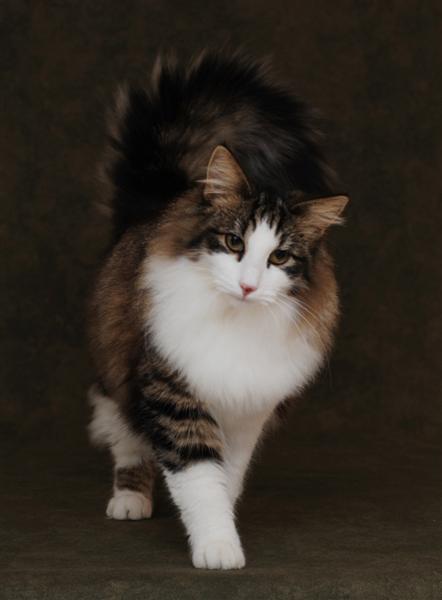 Madame Flod is the daughter of S*Humletassens Bombalurina, from our first litter CATS.

Bombalurina was a special cat for us in many, many ways but since it was our first litter and there was a lovely family where she would be appreciated for her phurr - we decided to sell her and hoped for grand children later on.

After a two year wait the kittens finally arrived. We have fell in love with Madame Flod. It seem she has many of the qualities from her mother that we love so much.

She's really a madame!

Madame's personal photo gallery updated 2009-01-01.

Madame was neutered 2011-04-13. She had one litter and gave birth to a black and white dream: S*Humletassens Disco Volante.